Illustrated by Maureen Burdock
Write in the Wilderness, or the Wilderness of Your Imagination
The beautifully illustrated Trail Writers Guide links elements of writing to your moments of inspiration crossing forest paths, mountain creeks, or alpine tundra.
These Writer's Trails lead to:
Intention
Discovery
Poetry
Place
Dialogue
Details
Character
Journaling
Myths and more...
"I AM OFTEN ASKED HOW TO WRITE about walking and wilderness. This unique book has the answers.Weaving ideas about writing with stories of walking, the author's words inspire and encourage. All who wish to express their love of wild places in words can learn from it."
—Chris Townsend, The Backpacker's Handbook, winner Outdoor Writers Guild Award forExcellence
LIKE A STURDY THREE-LEGGED STOOL, the Trail Writer's Guide serves as a comfortable resting place from which to explore both hiking trails and the more intimate trails of your writing journey. Cinny Green shares her expeditions into the wilderness with humbleness and generosity, erecting cairns along the path to guide your way.
—Page Lambert, Connecting People with Nature, and Writers with Words, author and leader of outdoor writing retreats.
Cinny Green is a writer, editor, and avid backpacker in Santa Fe, NM. She is the second place winner of the 2009 LAURA Award sponsored by Women Writing the West.
Maureen Burdock is an award-winning fine artist, illustrator, and graphic novelist.
Available from Western Edge Press
Barnes & Noble. $16.95
____________________________________________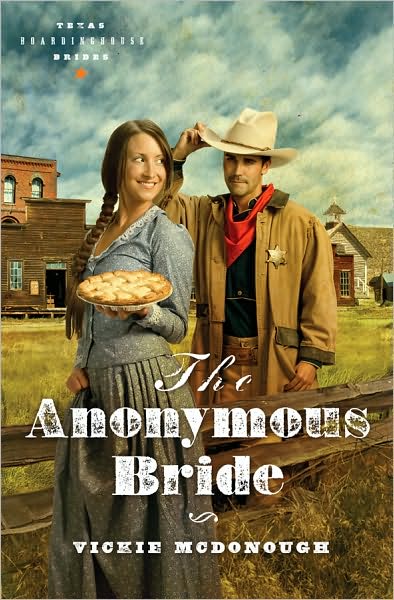 The Anonymous Bride,
Book One in the Texas Boardinghouse Bride series
by Vickie McDonough
Check yourself into the Texas Boardinghouse Brides series by Vickie McDonough, where you'll meet
Luke Davis
, marshal of Lookout,
Texas
, who flippantly tells his cousin he'd get married if the right woman ever came along.
When three
mail-order brides
are delivered to Luke a month later, he's in an uncomfortable predicament. How will he ever choose his mate? Rachel Hamilton's long-time love for Luke is reignited with his return to town. So when three mail-order brides appear, she panics.
Will she find the courage to tell Luke that she loves him? Or take an anonymous part in the contest for his hand?
Published by Barbour Publishing
Click here to purchase from Amazon.com
Experience how the west was won in the
North Dakota
Badlands where the three McFarland siblings face interesting predicaments in romance.
Adam challenges the research of a popular dime novelist who surprises him by being a beautiful female. Anna has to try to convince a deputy marshal that she isn't involved in outlaw activity. Quinn is asked to enter into a marriage ruse to save an innocent woman from jail time.
Will the siblings get out of their predicaments on
wings of love
and faith?
Published by Barbour Publishing
____________________________________________
Arkansas Meals and Memories
Lift Your Eyes to the Mountains
150 authentic Ozark recipes, some dating back to the 1800s, remedies and sayings from the hills, plus stories of growing up in the Ozarks during the Great Depression.

Includes photos.
Published by Goldminds Publishing, Springfield, MO
The Boston Mountains
Lost in the Ozarks
by Velda Brotherton
Stories of the lost communities of the Boston Mountains. This is not a history book but a book about the people who lived our history. Contains 137 photos, maps and illustrations.

Published by Old American Publishing, Houston, TX

____________________________________________
A Collection of Stories about the Ladies
by Jo-Brew
LA FEMME offers a peak at the "ah ha" moments in the lives of a sampling of women. The moments that change everything that comes after. Those moments that approach slowly and subtly and those that explode without warning. No age, background or lifestyle is insulated but each woman reaches in the depths of her own experiences and character to move forward, alone or with help.